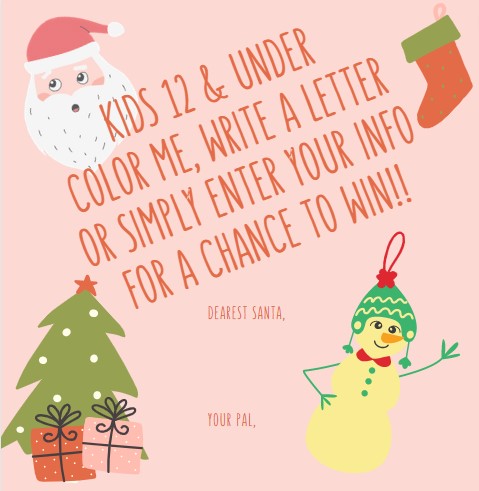 Stop in at your nearest branch to pick up an entry form or click below to download and print your own. You may color, write, or simply enter your contact information on the back. When completed drop your entry form back off to the branch.
Children 12 years of age and younger are eligible to enter into the drawing to win a large, filled stocking *. A total of eleven (11) random winners, one per Premier Community Bank location, will be drawn on Monday, December 19th. Winner will be notified by a Premier Community Bank representative and stocking can be picked up at your local Premier Community Bank location.
*Eligibility Requirements:
Children of Premier Community Bank, Premier Investment Services or Premier Insurance Services employees are prohibited from participating. Entry must contain completed contact information to be eligible for the random drawing. Winners will be chosen by random only, written content or coloring will not be considered or judged. One random winner will be chosen at each branch for a total of eleven (11) winners.
Thank you to those who participated in our Letters to Santa Activity! We relayed all the letters and drawings to Santa.
Winners have been announced and contacted. Photos will be shared soon.
Have a very Merry Christmas and a Happy New Year!
Iola Branch Winner
Cullen Schroeder, Bear Creek Branch
Madison Lieske, Winneconne Branch
Miranda Korth, Marion Branch
Photo Gallery #990: Click edit pencil to get the selected gallery name.