Plastic Beats Paper
Think of your Premier Debit Card as a plastic check with superpowers. Instead of writing paper checks, simply swipe your card, and it deducts it from your checking account. It's easy, convenient and offers a higher level of security than a traditional check.
Your Premier Debit Card is accepted at millions of locations worldwide — anywhere Mastercard is accepted. Plus you can receive fraud notifications to keep your finances safe.
Debit Card Support
Lost or Stolen Debit Card
Transaction Disputes
PIN Self-Service
ATM Access
Your Premier Debit Card is also your ATM card, which means you have 24-hour access to your checking or savings account. Withdraw cash any time and anywhere you need it.
Debit Card Fraud Notifications
Whenever a potential fraudulent transaction occurs on your Premier Debit Card, our debit card fraud notification system will immediately call or text the mobile device associated with your account, requesting verification for the transaction.
Learn more about our fraud notifications.
How-To Bank Video: Manage Debit Card
Manage Debit Card Video Tutorial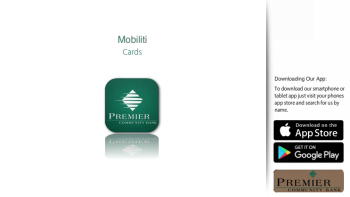 Manage My Card Video Tutorial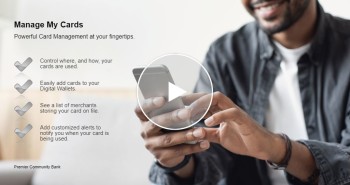 Debit Card Tip
Did you know? You can link your Premier Debit Card to your digital wallet and make purchases with your phone.