An App with Aptitude
Our Mobile Banking services give you access to your accounts — anywhere, any time.
Available for most mobile phones, the free Premier Mobile Banking App puts all your data at your fingertips in a secure and easy-to-use interface.
Get the Mobile Banking App
Instant Balance Feature
Our Instant Balance feature lets you view up to six accounts right from the login screen of our mobile banking app — no password necessary. Just tap the Instant Balance button in the top-right corner of the login screen to begin the setup process.
Manage Your Premier Debit Card
We've updated our mobile banking app to give you greater control and security over your Premier debit card:
Turn your Premier debit card on and off if it becomes lost or stolen.
Establish transaction controls for dollar-amount limits, merchant categories and geographic locations.
Receive alerts when your Premier debit credit is used, approved or exceeds the transaction controls set by you.
Stay informed of potential fraud with alerts on attempted and declined transactions.
Set controls on multiple Premier debit cards for family members, all from our Mobile Banking app.
To access the new card management features, select "My cards" from the main menu.
How-To Bank Video: Manage Debit Card
Manage Debit Card Video Tutorial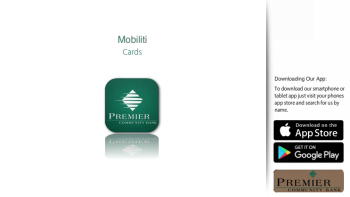 Manage My Card Video Tutorial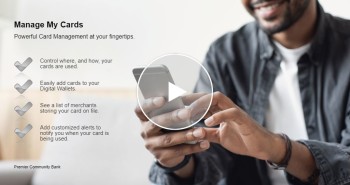 Mobile Deposit
Deposit checks on the go with the Premier Mobile Banking App's Mobile Deposit feature.
Mobile Deposit FAQ
What is Mobile Deposit?
Mobile Deposit is a feature of mobile banking. Using Mobile Deposit, you can deposit a check into your checking account using your mobile phone without going to a branch office.
What equipment do I need to make a Mobile Deposit?
You must be an Online Banking customer and have the Premier Community Bank mobile app installed on your Android or Apple smartphone. You cannot deposit checks from a computer.
Are there any deposit limits with Mobile Deposit?
Yes. The maximum amount per check is $2,500, and the maximum deposit amount per day is $5,000.
When can I make deposits?
Deposits can be made at any time of the day or night. Deposits made Monday through Friday before 6:00 p.m. CST will appear in your transaction history the next business day.
When will the funds be available to me?
The first $200 of a mobile deposit made before 6:00 p.m. CST will be available the next business day. The remainder of the deposit will be available on the second business day.
When will I see the mobile deposit credited to my account?
The deposit will appear in your checking account transaction history the next business day.
Will I be able to see the deposited check online?
The images of the checks you deposit are stored within the app on your cell phone but can't be seen in online banking. If you want to review a check deposited with Mobile Deposit, you can do so within the Premier Community Bank app. Checks deposited using Mobile Deposit will appear in your online banking transaction history with the description "Mobile Deposit." As a reminder, the deposit will not appear in your transaction history until the next business day.
What can I deposit?
Please only deposit checks made payable directly to you. We are unable to accept money orders, international checks, traveler's checks, counter checks, savings bonds or third-party checks through Mobile Deposit.
What accounts are eligible for Mobile Deposit?
Most deposit accounts, including checking accounts and savings accounts are eligible for Mobile Deposit.
Are there fees?
There are no fees from Premier Community Bank to make a deposit using Mobile Deposit.
How should the checks be endorsed?
Personal Accounts: Checks should be endorsed with your signature and "For Mobile Deposit Only."
Business Accounts: Checks should be endorsed with the business name and "For Mobile Deposit Only."
What do I do with the original check?
You should keep the original check until you see the deposit on your monthly statement. Once the check appears on your statement, you should destroy the original check.
What if the check image I photographed is bad?
The system will automatically review the check image for issues such as blurry text, cut-off images and missing information. You may be prompted to retake the photo before your deposit will be processed.
If you are unable to photograph a clear image, you can also make the deposit at the nearest Premier Community Bank location or by mailing your deposit to Premier Community Bank for processing.
Will I be notified if my mobile deposit is rejected?
Each branch office is notified of rejected mobile items. The branch manager or a designee will reach out to let you know about rejected items.
Bill Pay App
Pay your bills directly from Premier's Bill Pay which is integrated in the Premier Bank Mobile App.
View all upcoming bills.
See bill details and history with just a touch.
Customize payment details, including the account you want to pay from, the amount of the payment and the payment date.
Get real-time confirmation that your payment is scheduled.
Check out the video below to learn more.