Easily Transfer Money Between Accounts and Financial Institutions.
TransferNow is a convenient online account-to-account transfer platform that provides you an easy and secure way to transfer funds between accounts and financial institutions. Financing big expenses is a lot less complicated when you can freely access your accounts at your banks. External account transfers are available when you need them from your online banking account or mobile banking app. It's your money - move it when and where you need it.
Learn How to Set Up and Use TransferNow.
To learn how to use TransferNow with our Online Banking platform, click below to watch the video: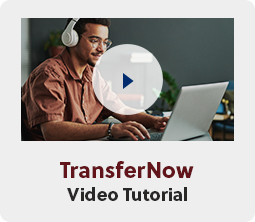 To view our step-by-step instructions on how to set up your TransferNow, please click below:
Log into your online or mobile banking app to set up a transfer today!
To access our online banking platform directly, click below:
PERSONAL/SMALL BUS. ONLINE BANKING LOGIN