Kapla Awarded Spring Scholarship
| Posted in Bank News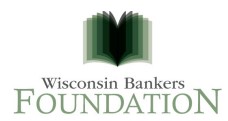 FOR IMMEDIATE RELEASE June 16, 2023
For more information, contact:
Hannah Flanders | hflanders@wisbank.com
GREEN BAY, Wis. – The Wisconsin Bankers Foundation, the non-profit arm of the Wisconsin Bankers Association, has awarded Ashton Kapla with the 2023 Spring Scholarship.
Each year, the Foundation awards four $2,000 scholarships to graduating high school seniors, current college students, or adults pursing higher education at an accredited Wisconsin college, university, or technical college. Recipients are chosen based on their academic achievements, community involvement, career goals, and financial literacy.
Originally from Pulaski, Wis., Kapla recently completed his associate degree in accounting at Northeast Wisconsin Technical College. Beginning in the summer of 2023, Kapla will pursue his bachelor's degree in accounting with a minor in education at UW-Green Bay.
Kapla is currently employed as a teller at Premier Community Bank in Pulaski. Given his experience in the banking industry and as a tutor at NWTC, Kapla aims to become an accountant and teach business courses to high school students.
"The Wisconsin Bankers Foundation is honored to recognize Ashton with our annual Spring Scholarship," said Foundation Chair Rose Oswald Poels. "His keen understanding of the importance of financial literacy will benefit him for years to come. We wish Ashton the very best in his future endeavors."
Three other $2,000 scholarships were awarded to:
Srikar Kalapala, a Hamilton High School senior
Morgan Nelson, a UW-Eau Claire senior
Sonia Stafeil, a Kettle Moraine High School senior
For more information on the Wisconsin Bankers Foundation and its annual scholarship, please visit wisbankfoundation.org.
###
About the Wisconsin Bankers Foundation The Wisconsin Bankers Foundation (WBF) is a Wisconsin non-profit organization dedicated to promoting financial literacy and capability to the public. WBF works to empower consumers' financial decisions through education, scholarships, grants, and research. (IRS Public Charity Employer Identification Number 46-3791061)
About the Wisconsin Bankers Association Founded in 1892, WBA is the state's largest financial industry trade association, representing more than 200 commercial banks and savings institutions, their branches, and over 30,000 employees. The Association represents banks of all sizes in Wisconsin, and nearly 98 percent of banks in the state are WBA members.
Image Caption— Pictured (left to right) are: Tom Pamperin, Premier Community Bank president and CEO; Ashton Kapla; and Cassandra Krause, WBF executive director.