Premier Community Bank Announces Promotions
| Posted in Bank News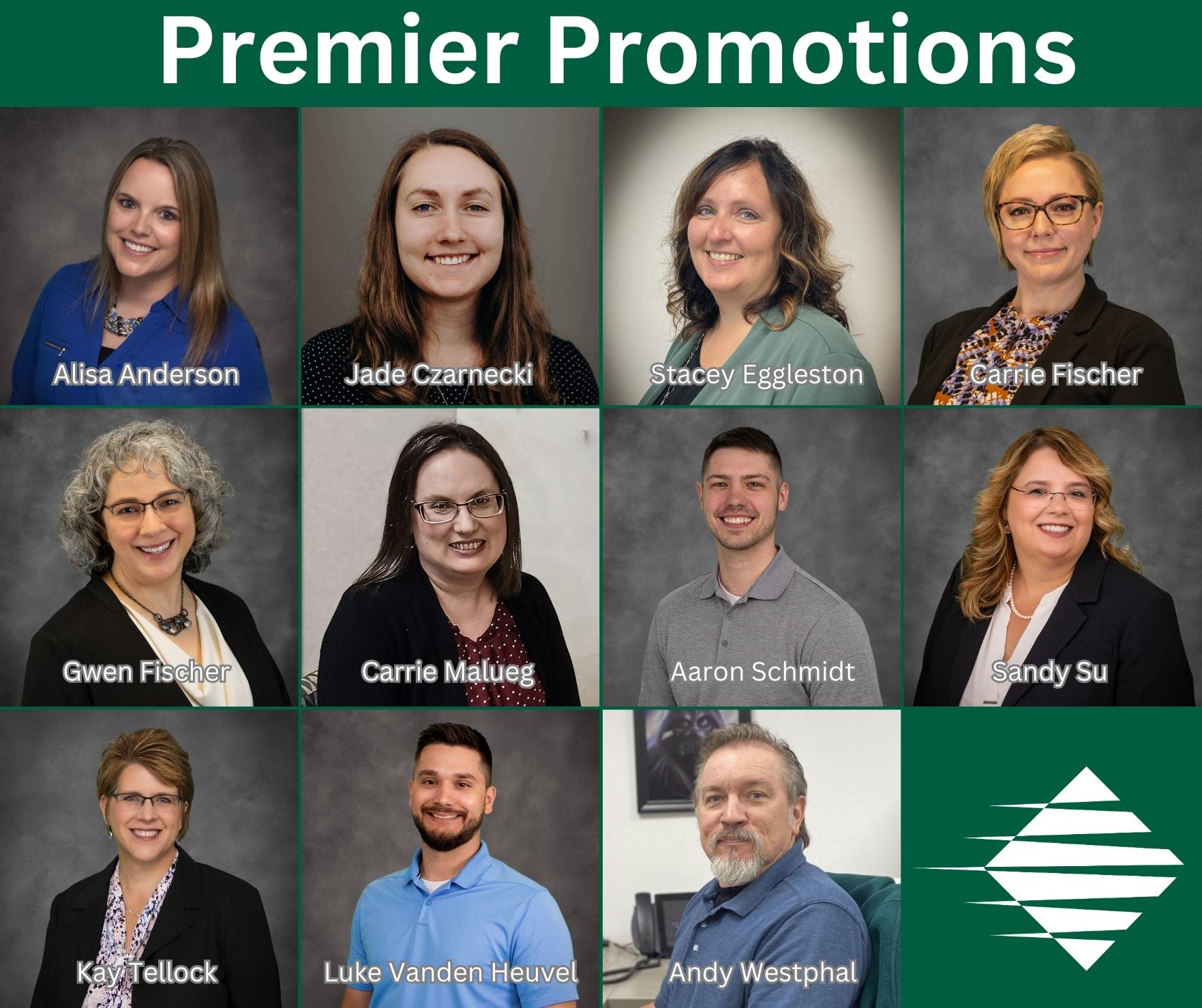 Eleven employee's promotions were approved by the board in April.
Marion – Premier Community bank is proud to announce the promotion of eleven employees. These employees have shown leadership and dedication. We look forward to watching their careers excel in the future.
Two employees were promoted to VP in their respective departments. Sandra Su recently returned to Premier in 2022 after previous employment at the Bank of 14 years. Sandra was promoted to VP-RE Mortgage Loan Officer. Luke Vanden Heuvel now VP-Commercial/Agriculture Loan Officer, has been with Premier since 2018. He joined as a Credit Analyst and became an AVP/Commercial Agriculture Loan Officer in 2021.
Six employees were promoted to Assistant Vice President (AVP) in their respective departments. Alisa Anderson joined Premier in 2020 as our Branch Manager in Pulaski in 2020 and now is tasked with new responsibilities as AVP-Retail Services/Branch Manager-Pulaski. Stacey Eggleston joined us in 2022 as the Manager of Customer Care Team and Operations Officer and will now be leading her team as AVP-Customer Care. Gwen Fischer is now the AVP-Marketing after starting in 2020 as the Marketing Officer. Aaron Schmidt began his career with Premier in 2018 as a Credit Analyst, moved to Commercial/Agriculture Officer in 2021 and now will take on the role of AVP-Commercial/Agriculture Loan Officer. Kay Tellock started her journey with Premier as an Administrative Assistant in 2011. In 2018 Kay was promoted to Human Resource Specialist, and assumed responsibilities of the Human Resources Department as the Human Resource Officer in 2020. Kay will now lead her team as AVP-Human Resources. Andy Westphal will now take on responsibilities of AVP-Information Security after joining the bank as an Information Security Officer in 2021.
Three additional employees also received promotions. Jade Czarnecki began as an Administrative Assistant in 2021 and will now be the Human Resources Specialist. Carrie Fischer recently joined as a Customer Service Representative in Winneconne and now will be the Universal Banker for that branch. Carrie Malueg joined Premier in 2012 in Loan Support, transitioned to the role of Mortgage Loan Servicer in 2018 and has now been promoted to Mortgage Services Officer.
President/CEO Tom Pamperin commented, "Leadership is about making those around you better and all these promotions reflect that leadership. I appreciate their dedication to our organization and look forward to their continued leadership."
Premier Community Bank is headquartered in Marion, Wisconsin and has eleven offices throughout Northeast Wisconsin. For more information about Premier Community Bank, visit www.premiercommunity.com. Member FDIC, Equal Housing Lender.